Navigator

| | |
| --- | --- |
| | Home |
| | Collection |
| | Swap |
| | Play Games |
| | Contact |
| | Guestbook |
| | Site Info |
| | In Dutch |
Welcome to the nostalgic history of home and game computers

P2000 - A SOLID HOME COMPUTER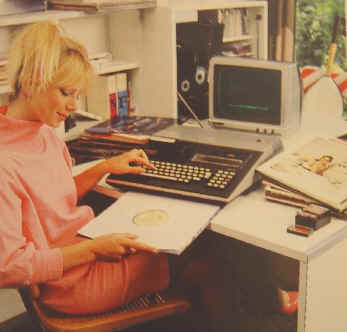 In the early eighties, the Dutch company Philips launched the P2000T, a home computer with entirely distinguishing features. De P2000T was equipped with a very solid case and could therefore stand rough handling.
Surprisingly, the most advanced feature of the P2000 was not striking at all: the built-in minicassette recorder at the right above the keyboard. This was a perfect godsend: the speed of this little recorder was ten times as high as that of the normal cassette recorders used with many other home computers. Besides, the P2000 could display the entire directory of a cassette on the screen. Searching for a program and saving to an empty spot on the tap went fully automatic.
Hobbyists
The P2000 expanded enormously among the computer hobbyists in the Netherlands. The hobby club almost existed earlier that the P2000 itself. When employees of the Philip's Physical Laboratory heard rumours that Philips in Austria was developing some home computer, they founded a home computer club that would create a large number of software for the P2000.
Closely related to it, a short time later the Philips user group was founded, an active group that nowadays still exists. The members made and make countless applications for the P2000T and other models of the P2000. Strikingly, Philips in its advertisements gave an elaborate description of the advantages the user group could offer.

Education
In addition to hobbyists, the P2000T was also frequently used on Dutch schools. For many children in the eighties it was the introduction to the world of computers. The solid design of the P2000T must have played a role in the desision of schools to purchase these computers.

High-priced
The advantages the P2000 offered had a price. In the beginning, the computer cost 3000 guilders. In 1984, the price for the simplest model was reduced to 1200 guilders.
On the other hand, much software was at low prices available on minicassette at the P2000 user group. For software one could also use cartridges: the P2000 had two slots on top of the case. But these cartridges were also far from cheap. In 1984, the recommended retail price for popular programs like Family Memory (a kind of database) and Word Processor came to 265 guilders.

Variants
The P2000 was available in several variants. I mainly described the P2000T here, because this was the most common model. In the midst eighties the P2000T was available in versions with 16, 32 and 80 KB RAM. Besides, there was a P2000M, with monitor and built-in floppy drives, and a P2000C, a portable model.

Specifications of the Philips P2000T

| | |
| --- | --- |
| Manufacturer | Philips |
| Period | 1981 - |
| CPU | Z80 |
| Frequency | 2,5 MHz |
| ROM | 4 KB |
| RAM | 16 KB, expandable |
| Text mode | 24 lines x 40 columns |
| Colours | 7 |
| Sound | 1 channel |
| I/O | printer, monitor, tv, 2 cartridge slots |
| Price | 3000 guilders by introduction, later remarkably reduced |
News

Play games online on this site, and enter your name and high score. No need to download, play Pac-Man, Space Invaders, Asteroids and Snake simply on the screen.

Gameshop - Atari, NES, SNES and SEGA games for sale




View results from last poll: how many games you have? (3127 votes)