Navigator

| | |
| --- | --- |
| | Home |
| | Collection |
| | Swap |
| | Play Games |
| | Contact |
| | Guestbook |
| | Site Info |
| | In Dutch |
Welcome to the nostalgic history of home and game computers
Pong consoles - remember them?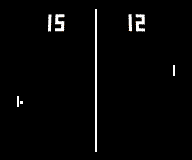 After Atari launched its famous Pong in 1975, the world was flooded with imitations. There must have been several hundred different models across the continents. The designs varied widely. The first models had only four options, just like the first console from Atari: tennis, hockey, squash and practice, for the lonely players. Subsequent pong consoles had extra options and in many cases even a light gun.


On this page you can take a look at several pong consoles from my collection. Elsewhere on this site you can find my collection of home computers and game computers.
| | | | |
| --- | --- | --- | --- |
| Brand or name | Model | | |
| Atari | Pong (Sears Telegames) | | |
| | Super Pong | | |
| Audio Sonic | PP 900 | | |
| | PP 940 | | |
| | Tele-Sports III | | |
| Grandstand | Adman 2000 | | |
| Mentor | Colour 6 | | |
| Monarch | CTX-4 Color | | |
| Norda | TV Game H-925 | | |
| Philips | ES 2201 Telespel | | |
| | Odyssey 2001 | | |
| | Odyssey 2100 | | |
| Poppy | TVG-4 | | |
| Prinztronic | Tournament Ten | | |
| Soundic | TV Sports | | |
| Tandy | TV Scoreboard | | |
| Videomaster | Colourscore | | |
| Zanussi | Ping-o-tronic | | |
| Unknown | TVG 101-4 | | |
History of Home and Game Computers, by Erik Klooster, the Netherlands

Tell a Friend

View results from last poll:how many games you have? (3127 votes)